Published on 25 Mar 2021
About ARTEMIS
(ECS) SRIA 2021 Synopsis for Decision Makers
A plea for more investment and closer collaboration all along the ECS value chains and a concerted approach between countries
AENEAS, ARTEMIS-IA and EPoSS published together a Strategic Research and Innovation Agenda (SRIA) for Electronics Components and Systems (ECS) in January of this year, describing the major challenges and the necessary R&D&I efforts to tackle them, in micro- and nanoelectronics for smart systems integration all the way up to embedded systems and System of Systems. Aspects of software, photonics, as well as flexible and hybrid electronics integration are also highlighted. The industry associations proposed to the European Commission and Participating States in the forthcoming Joint Undertaking on Key Digital Technologies (KDT JU), to take the ECS SRIA as a starting point giving directions not only to the new KDT JU, but also to longer-term R&D&I activities on ECS in Horizon Europe.
To provide decision makers a consolidated insight into the markets, objectives, and required achievements for Europe's Digital Decade, the three associations issued on March 25 the "Synopsis for Decision Makers". This brief executive summary explains the ECS SRIA purpose, the four main ECS objectives, the European ECS Roadmap, and the challenges and opportunities ahead.
Almost 75% of the world GDP (accounting for € 72.7 trillion in 2018) is built on ECS, demonstrating the rising and crucial importance for the sovereignty of Europe to master the key elements of this value chain. ECS also accounts for major shares of global employment in Europe, as well as major R&D&I activities. Europe must be(come) on par with its ECS capabilities to maintain its competitiveness and is really helped with public money invested in the future work programmes of the KDT Joint Undertaking where the European Union, European Participating States and European Industry work together.
The "Electronics Components and Systems (ECS) SRIA 2021 Synopsis for Decision Makers" is a plea for more investment all along the ECS value Chains and a concerted approach between countries for a truly global European digital strategy in key application domains.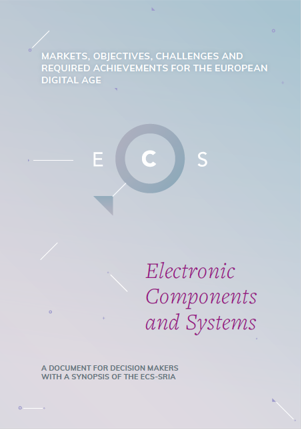 Download ECS SRIA 2021 Synopsis for Decision Makers