Published on 27 Jun 2018
External News
TETRAMAX has an important mission to help European SMEs
TETRAMAX has an important mission to help European SMEs capitalize on the rise of the Internet of Things and the billion opportunities it brings.
"Equipped with a 7 Mio. Euros budget, our ambition is to support digitization of European SMEs and other industries with a variety of measures. The consortium with its 23 partners from all across Europe provides a blend of expertise in custom computing and is highly committed to help connecting SMEs and mid-caps with international top-class academia. TETRAMAX paves the way to fast, low-risk industrial adoption of novel ICT."
[Rainer Leupers, TETRAMAX Coordinator]
TETRAMAX (www.tetramax.eu) is an H2020 innovation action project, which means it aims to boost innovation, with a focus on customized, low-energy computing (CLEC) in IoT and CPS. It is the largest EU-wide tech transfer project related to IoT, Connected Devices and Low Energy Computing.
Why invest in new technologies?
Research conducted by A.T. Kearney states that within the next 10 years the market for IoT solutions will be worth €80 billion, and its potential value for the EU28 economy could reach nearly €1 trillion.[1] Companies can capture value by creating new revenue streams from providing connected solutions and services to consumers and enterprises and by reducing costs in operations.
Our contribution
TETRAMAX wants to help SMEs and researchers innovate by providing seed money for technology transfer experiments (TTX) in CLEC. The next call for bilateral technology transfer experiments will open October 2018. These bilateral TTX require one academic and one industrial partner from two different EU countries, where the academic partner offers a certain new hardware or software technology to a receiving industrial partner (preferably an SME) from another EU country. The technology will then be applied or productized by the industrial partner. (tetramax.eu/ttx/calls/ )
Another important facilitator is our brokerage portal, using a network of companies, technology providers and academics in the CLEC area. (tetramax.eu/brokerage)
The importance of networking
Technology seekers and providers can post technology requests or offers on our brokerage portal. Of course you can also browse the network to locate potential partners based on competencies or regions. Engaging in the portal has many advantages. If you are a startup, SME or company using IoT/Connected Devices, you can search for new technologies that have the potential to improve your products such as technologies to reduce energy usage, novel sensors, simulation tools, etc. But also researchers, universities and SMEs providing IoT/Connected Devices technologies can benefit from this portal when looking for companies or partners interested in technologies you have developed.
The TETRAMAX project has received funding from the European Union's Horizon 2020 research and innovation programme under grant agreement number 761349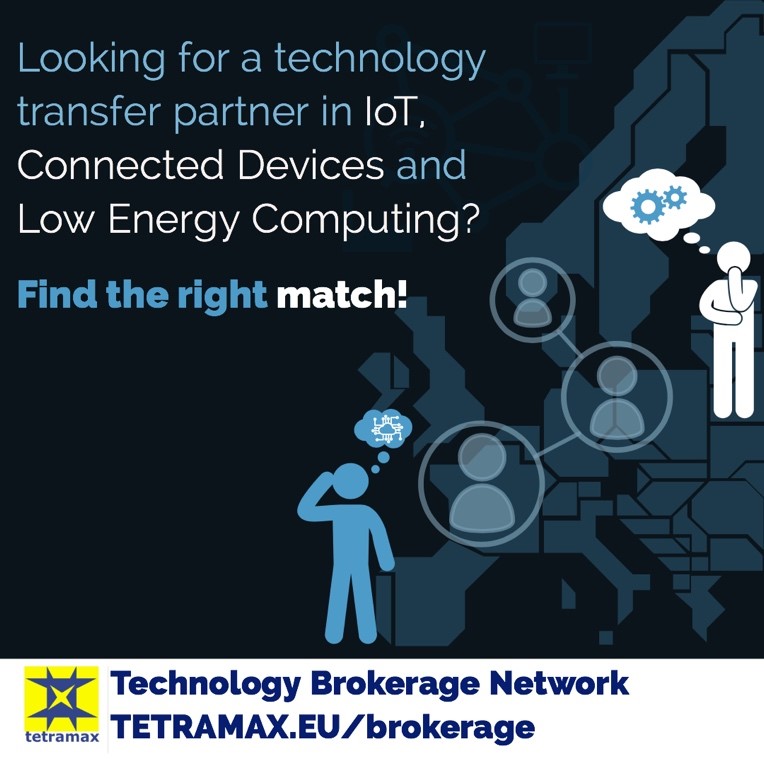 [1] The Internet of things: A new path to European prosperity, ATKearney, http://www.atkearney.be/documents/10192/7125406/The+Internet+of+Things-A+New+Path+to+European+Prosperity.pdf/, 10/06/2018,p. 1.